BZAM does not sell products directly to patients.
BZAM medical cannabis products can be purchased through our medical marketplace partners with a valid medical document.
BZAM does not sell products directly to patients.
BZAM medical cannabis products can be purchased through our medical marketplace partners with a valid medical document.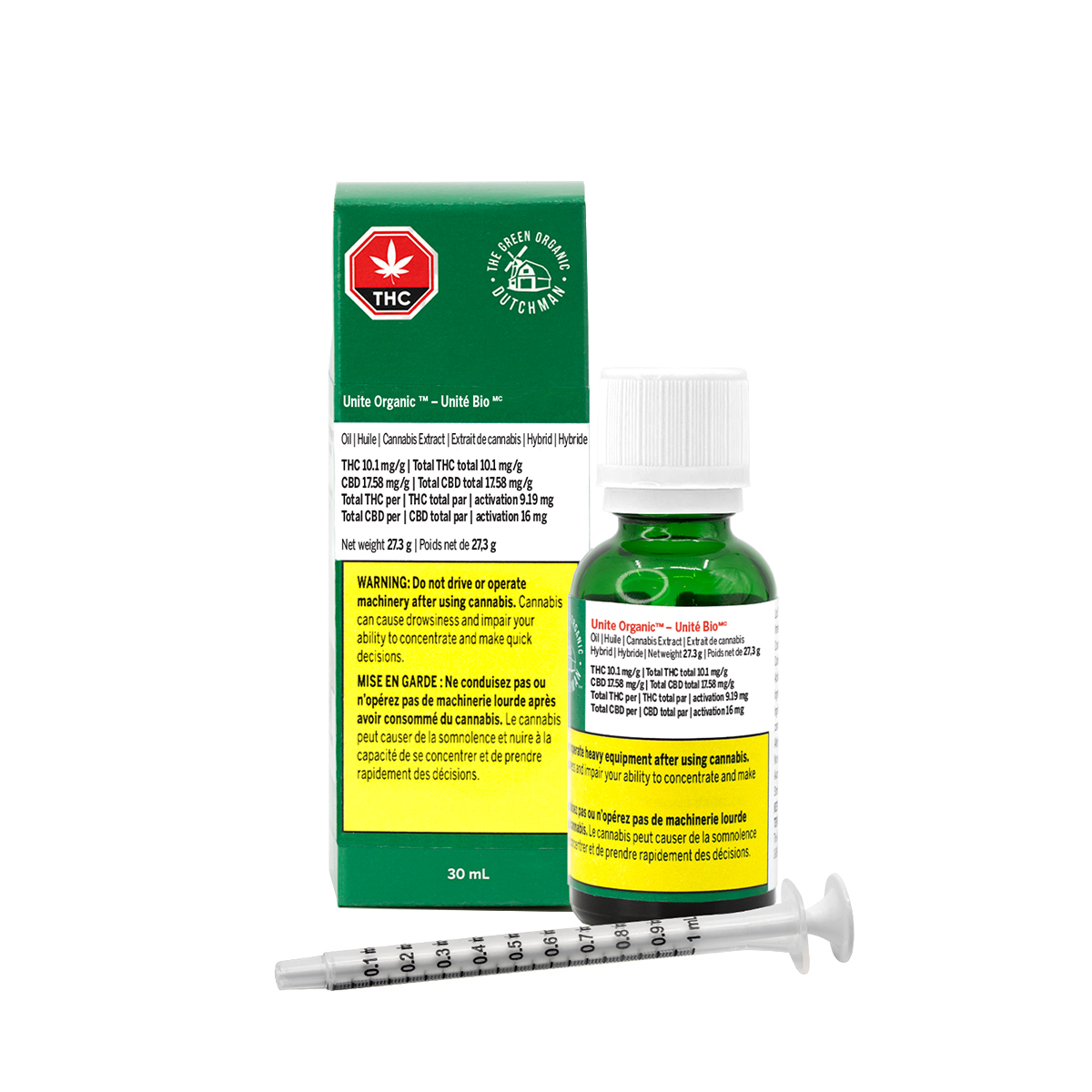 TGOD
Oil
Unite Organic Oil
235-315mg/g THC
0mg/g CBD
30mL
Indica
TGOD™ Unite Organic Cannabis Oil is a certified organic high-THC indica formula with 30 mg/mL THC, dominant in Pinene and Myrcene terpenes, in an Organic Olive Oil carrier. TGOD is committed to the safest, environmentally-friendly processes to minimize our impact. That's why we use CO2 extraction and package our oils in recyclable glass bottles. Available in 30 mL format.
Privacy Policy
Last updated: March 31, 2023
Policy Statement
BZAM LTD. ("BZAM", "We" or "Us") is committed to protecting your privacy with respect to the collection, use, and disclosure of your personal information. This Privacy Policy applies to BZAM's activities in Canada which are subject to applicable Canadian federal and provincial privacy laws and describes the personal information that BZAM collects from or about you, as well as how we use and to whom we disclose that information. Please review this document carefully to understand our policies and practices for collection, use and disclosure of your Personal Information. If you do not agree with our policies and practices, your choice is not to use our Website. By accessing or using this Website, you indicate that you understand, accept, and consent to the collection, use and disclosure of your Personal Information (defined below) as described in this policy.
We are responsible for the protection of Personal Information in our custody or control. This Privacy Policy describes key principles and practices we follow regarding our collection, use, disclosure, retention and disposal of your Personal Information, whether collected by us online (including electronic newsletter), via telephone or mobile devices, mail, or any other means. This Privacy Policy does not apply to the practices of companies that we do not own or control, or to people that we do not employ or manage, including without limitation, any affiliates, business partners or other third parties.
This Privacy Policy may be amended by us from time to time in order to address modifications to existing law, regulations, company policies or business practices. Any such amendments will be reflected in the Privacy Policy posted on our Website.
What is Personal Information?
Personal information ("Personal Information") is information about you, and may include (without limitation) your age, name, address, income, ethnicity, employee file, social status, and personal credit or financial information. It reveals something of a personal nature about you, and it could reasonably identify you if disclosed (either on its own, or in combination with other information). Personal Information does not include your business contact information, such as your title, business address or business email address (when used for the purpose of communicating to you in relation to your employment or profession), or information that has been anonymized or aggregated so that it can no longer be used to identify you.
What Personal Information Do We Collect?
We collect Personal Information from you online, over the telephone or by mail or by any other means and will inform you of the purposes for which we collect and use your Personal Information at the time of collection, or as otherwise set out in this Privacy Policy. Types of Personal Information we may collect include:
identifying and contact information, such as your name, address, gender, telephone number, e-mail address, and birth date;
certain Personal Information related to your request for or purchase of certain products or services;
financial information, such as credit card details or billing addresses;
information related to your use of our Website, including internet service providers and Internet Protocol (IP) addresses of devices being used to access our Website, operating systems and the types and versions of browsers used to access our Websites, dates and times users access our Websites, as well as Website cookies;
certain medical documents or information, with details such as your physician's name, address, phone number, e-mail address, diagnosis and dosage information;
to send communications, including newsletters and promotional campaigns, informing you of our products and services;
other information through your use of our Websites, correspondence or discussions with us, and other mechanisms for transacting and communicating with us.
You may also provide information to be published or displayed ("posted") on public areas of the Website ("User Submissions"). Your User Submissions are posted on and transmitted to others at your own risk. We may also collect market-related data from you, which could include Personal Information, related to trends in the industry. Additionally, we may, at times, receive Personal Information about you from certain third parties engaged to perform services. In such circumstances, we will take reasonable steps to ensure that disclosure by such third parties is made to us only in compliance with applicable privacy laws.
Cookies and Tracking Technology
We may use "cookies" or other automatic data collection technologies to collect certain information about your browsing actions and patterns, including:
details of your visits to our Website; and,
information about your computer and internet connection, including your IP address, operating system and browser type.
The information we collect automatically is statistical data and may include Personal Information, and we may maintain it or associate it with Personal Information we collect in other ways. It helps us improve our Website and to deliver a better and more personalized services, including by enabling us to estimate our audience size and usage patterns, store information about your preferences, speed up your searches and recognize you when you return to the Website.
Why does BZAM Collect Personal Information?
We collect and use your Personal Information to perform our necessary business activities, including:
to process, verify, and deliver orders of products or services, subscription services related to newsletters, magazines or informational campaigns;
to communicate with you regarding products or services, via email, SMS, text or by telephone;
to communicate with caregivers on your behalf, should you authorize us to do so;
to manage our relationship with you;
to receive and respond to inquiries, and to improve our products and services;
to permit you to register and access an account with us;
to identify and carry out improvements to the products and services we provide;
as permitted or as is necessary to comply with legal and regulatory requirements;
to deliver targeted marketing, service updates, and promotional materials based on your use of our Website;
to measure the performance of our email marketing campaigns (e.g. by analyzing open and click rates);
to track and analyze trends and patterns impacting our business;
to detect, prevent, mitigate and investigate fraudulent or illegal activities;
to create aggregated information that does not allow you to be personally identified or contacted; and
any other reasonable purpose, so long as your consent has been provided.
Further, we may also collect and use your Personal Information in order to provide or facilitate that provision of health or medically-related products and services, including:
providing and managing medicinal cannabis dispensed and related services;
providing information in connection with such services;
communicating with patients to advise of health-related information and services that may be of assistance or interest;
assisting physicians or other healthcare professionals with respect to the products and services provided;
responding to requests made by, or on behalf of, insurance providers to review claims;
recommending products, services, programs or events to manage patients' healthcare needs;
obtaining and processing payments for medicinal cannabis dispensed to patients;
investigating incidents and handling claims; and
performing obligations in compliance with legal and regulatory requirements.
How does BZAM use the Personal Information Collected?
We may use Personal Information collected:
as permitted or as is necessary to comply with our legal and regulatory requirements;
for the reasons described in this Privacy Policy, including to process your orders, and to communicate with you about our products and services;
in any other reasonable manner, so long as we have obtained your prior consent.
We may use aggregated, anonymized information collected for statistical purposes in order to, for example, identify the demographics of our customers, or to analyze trends and patterns. We may also disclose aggregated, anonymized data to third parties, but never any identifiable Personal Information (except in accordance with this Privacy Policy).
When does BZAM Disclose Personal Information?
We may disclose Personal Information to your physician or other healthcare professional, or your authorized family member or caregivers, but only with your consent or as otherwise permitted or required by law. We may also share your Personal Information with our employees, consultants, affiliated companies and other third parties that provide services to us, and who require it in order to ensure we are able to manage our relationship with you and provide you with products and services, as described in this Privacy Policy. Additionally, your Personal Information may be disclosed with your consent, or:
for the purposes described in this Privacy Policy;
to our third-party service providers (who may be located outside Canada) for purposes related to supporting our business, including (without limitation) IT service providers, payment processers, and packaging and shipping partners;
as part of an audit by governmental or regulatory authorities;
as permitted or required by applicable law or regulatory requirements;
during emergency situations or where necessary to protect the safety of a person; and
as part of a merger, acquisition, divestment or change in control of all or a part of our business.
How does BZAM Protect Personal Information?
Wherever possible, we store your Personal Information in Canada, under our custody and control, using reasonable organizational, contractual, technical and physical security measures to protect your Personal Information from unauthorized access, collection, use, disclosure or destruction. However, some of the Personal Information we collect from you, such as financial information related to your purchase of products or services (i.e. credit card purchases), may be transferred, stored or processed outside of Canada. In this case, your Personal Information would be subject to the laws of the country to which it is transferred and stored. That country may have laws that require that your Personal Information be disclosed to government agencies under different circumstances than would Canada. Should you have questions or concerns about the specific safeguards we have in place, please feel free to contact our Privacy Officer at the coordinates below.
How can Personal Information be Accessed or Updated?
Your Personal Information is just that – yours. We will make reasonable efforts to ensure your Personal Information is accurate, complete and up-to-date, but should you wish to review, change or otherwise access your Personal Information held by us, please contact our Privacy Officer as per the details below. Please note, however, that there may be times, or circumstances, where your Personal Information cannot be accessed or changed, such as if the information has been destroyed pursuant to our record retention policies. In such cases we will advise you of the reasons why your information cannot be accessed, subject to any legal or regulatory requirements we may otherwise have. Please note that we will retain your Personal Information only for as long as necessary to provide you with the products and services you have requested, or for other essential purposes such as complying with applicable laws.
You have the right to refuse to give your Personal Information to BZAM. By giving your Personal Information to BZAM you consent to your Personal Information being collected, stored, used, disclosed and processed in accordance with this Privacy Policy. You may withdraw your consent at any time by contacting our Privacy Officer. If you choose to withdraw or refuse to give consent, BZAM may not be able to provide or continue to provide certain services or information to you.
Contacting BZAM
For any questions, concerns or complaints about the collection, use, or disclosure of Personal Information by BZAM, please contact our Privacy Officer, who is responsible for overseeing compliance with this Privacy Policy.
BZAM LTD.
1570 - 200 Burrard Street,
Vancouver, British Columbia V6C 3L6
Attention: Privacy Officer
E: privacyofficer@bzam.com
T: 1-844-256-BZAM (2926)
If the BZAM Privacy Office is unable to resolve your complaint, you have the right to file a complaint with the appropriate federal or provincial privacy commissioner. Contact information for The Office of the Privacy Commissioner of Canada is noted below:
Office of the Privacy Commissioner of Canada
30, Victoria Street
Gatineau, Quebec, K1A 1H3
Toll-free: 1-800-282-1376
Phone: (819) 994-5444
TTY: (819) 994-6591
Website: https://www.priv.gc.ca/en/contact-the-opc/
Terms & Conditions
Last Updated: March 31, 2023
Please read these terms and conditions carefully as they contain important information regarding your rights, remedies, and obligations.
BZAM Ltd. ("BZAM") maintains a website currently located at www.bzam.com (the "Website") which provides articles, publications, information, data, and other materials (the "Content") and offers certain services, including making certain products ("Products") available for sale to you (collectively the "Services"). The Website is provided to you subject to your agreement to comply with these terms and conditions of use ("Terms and Conditions"). By accessing or using the Website you agree to be bound by these Terms and Conditions and our Privacy Policy. If you do not agree to be bound by these Terms and Conditions and our Privacy Policy, please do not access or use the Website.
Amendments to Terms of Use
BZAM reserves the right to revise, modify, supplement, or delete any information, materials, services and/or resources contained on the Website, including the right to change, amend or modify these Terms and Conditions at any time without prior notice. If you do not agree with this or with any change, you must stop using or accessing the Website. Your continued access to or use of the Website after such changes shall be considered, and shall be, your acceptance of these Terms and Conditions as modified. It is your responsibility to review these Terms and Conditions regularly.
Jurisdiction and Governing Law
The Website is hosted on servers located in British Columbia, Canada. As such, your access and use of the Website and Content, and receipt of any Services, shall be deemed to be provided in the Province of British Columbia, and subject to the laws of the Province of British Columbia and the federal laws of Canada applicable therein. Any action, proceeding, claim or dispute arising from, related to, or in connection with the Terms and Conditions, the Website, Content, Products, Services, or your access or use of, or reliance on, any of the foregoing, shall be brought before the courts located in the City of Vancouver in the Province of British Columbia, and decided in accordance with the laws of the Province of British Columbia, and you irrevocably consent to the exclusive jurisdiction and venue of such courts. Notwithstanding the foregoing, either you or BZAM may apply to any court of competent jurisdiction to obtain injunctive or other emergency or similar relief.
If you access the Website from outside of Canada, you do so at your own risk and are responsible for compliance with local, national, or international laws, including, without limitation, securities laws, privacy laws, and import and export laws. You further understand and acknowledge that the Website may not be available in all jurisdictions and that you are responsible for ensuring that it is lawful for you to use the Website and access the Content and Services in your jurisdiction.
If you are residing in a jurisdiction where it is illegal to take part in any of the activities related to the Website, including reviewing the Content or receiving Products or the Services, you may not use the Website. By accessing or using the Website you are expressly representing that you have verified in your own jurisdiction that such access and use comply with all applicable laws, and you acknowledge that BZAM is entitled to, and shall, rely on such representation.
Use of the Website
You agree that you will not, without BZAM's prior written permission, use the Website, the Content, Products, and the Services for purposes other than your own personal non-commercial use and benefit. You may not frame the Website or the Content or any part thereof on any commercial or non-commercial internet website. You acquire absolutely no rights or licences to the Website or the Content other than the limited right to use the Website and the Content in accordance with these Terms and Conditions. You may only access and use the Website for legitimate purposes and not for any illegal or unauthorized purpose, including in violation of any criminal law, intellectual property law, privacy law or any other applicable law or regulation. You represent and warrant that you are at least the age of majority in the jurisdiction in which you reside and are legally capable of entering into a binding agreement. Except as expressly provided in these Terms and Conditions, any reproduction, retransmission, distribution, sale, republication, modification, translation of or creation of derivative works based on the Website or the Content, in whole or in part, and any disassembly, reverse engineering or other exploitation of the Website, without the prior written permission of BZAM, is strictly prohibited. BZAM reserves the right to take any actions necessary and appropriate to preserve the integrity of the Website.
Materials provided to BZAM or posted on any BZAM's Websites
BZAM does not claim ownership of the materials you provide to BZAM or post, upload, input, or submit to any Website or its associated services (collectively "User Submissions"). By posting, uploading, inputting, providing, or submitting your User Submissions in any way, you are granting BZAM, its affiliated agencies and necessary sublicensees permission to use your User Submission in connection with the activities of BZAM including, without limitation, the rights to: copy, distribute, transmit, publicly display, reproduce, edit, translate and reformat your User Submission; and to publish your name and the names of any individuals you provide us in connection with your User Submission.
All information you provide to BZAM including information you provide through the Website or post on the Website may be subject to access and disclosure in accordance with federal and provincial privacy laws.
No compensation will be paid with respect to the use or other publication of your User Submission, or other information as provided herein. BZAM is under no obligation to post or use any User Submission you may provide and BZAM may remove any User Submission at any time in BZAM's sole discretion.
By posting, uploading, inputting, providing, or submitting your User Submission you warrant and represent that you own or otherwise control all of the rights to your User Submission as described in this section including without limitation, all the rights necessary for you to provide, post, upload, input or submit the User Submissions.
Accounts and Registration
If a feature of the Website is accessible only by use of a username and password, you are solely responsible and liable for any use and misuse of your username and password and for all activities that occur under your username and password. For security reasons, you must keep your username and password confidential and not disclose them to any person or permit any other person to use them, except as otherwise authorized by BZAM. All usernames and passwords created through use of the Website or Services shall be and remain the property of BZAM and may be cancelled or suspended at any time by BZAM without any notice or liability to you or any other person. BZAM is not under any obligation to verify the actual identity or authority of any person using your username and password and has taken all reasonably necessary steps to ensure you and any users of the Website or Services is of legal age in the jurisdiction in which they reside. You must immediately notify BZAM of any unauthorized use of your username or password, or if you know or suspect that your username or password has been lost or stolen, has become known to any other person, or has been otherwise compromised. If you choose to register with BZAM for the online purchase of Products, you agree to: (i) provide true, current, and complete information about yourself; and (ii) maintain and promptly update online information about yourself to keep it true, current, and complete
Product Sales, Shipment, Returns and Exchanges
In addition to the Content, BZAM offers certain Services, including making available to you for purchase, through the Website and otherwise, certain Products. BZAM may, at any time, limit or withdraw the quantities of Product, or types of Product, offered on this Website, or reject or limit the sale of Products to any person, subject to applicable legal or regulatory obligations. When you submit an order for Products to BZAM, you will be required to register with BZAM and provide payment and financial details that are truthful, accurate and complete, and in so doing you represent and warrant that you intend to use the Products lawfully, in accordance with medical advice (if applicable), and that you will not resell or transfer the Products to any other person. Further, you represent and warrant that you have the lawful authority to use such method of payment for the purchase of Products from BZAM, and that your registration information is and will be at all material times truthful, accurate and complete. All orders for Products are subject to acceptance by BZAM. BZAM reserves the right to refuse to provide Products to anyone, at any time, for any reason, and to accept or reject any Products for returns or exchanges, subject to applicable legal or regulatory obligations. If you experience any adverse reaction to a Product or are unsatisfied with a Product that you believe may be defective, please contact BZAM as soon as possible at the coordinates below.
BZAM will use commercially reasonable efforts to ensure that prices, Product descriptions, details and depictions are accurate, complete, and up to date, but does not guarantee any of the foregoing. In the event any information is inaccurate or incomplete, BZAM will not be obligated to provide such Product, and any payments accepted by BZAM will be refunded as soon as reasonably possible. Prices for Products offered by BZAM on this Website, or otherwise, are subject to change, without notice, and (unless otherwise indicated) are quoted in Canadian dollars exclusive of applicable taxes, duties, and shipping costs. You may order Products for shipment solely within Canada. Title to Products shall pass to you, the purchaser, upon transfer to the courier. BZAM is not responsible for Products that are undeliverable, or delivered to an incorrect address, as a result of inaccurate or incomplete information provided by you. Products that are returned to BZAM due to being refused, unclaimed (i.e., not picked up), or as a result of incorrect information, may be subject to additional shipping charges.
Disclaimer and Limitation of Liability
THE WEBSITE AND THE CONTENT ARE PROVIDED "AS IS" WITHOUT REPRESENTATION, WARRANTY OR CONDITION OF ANY KIND. USE OF THE WEBSITE OR THE CONTENT IS AT YOUR OWN RISK. BZAM MAKES NO REPRESENTATIONS, WARRANTIES OR CONDITIONS ABOUT THE QUALITY, ACCURACY, RELIABILITY, COMPLETENESS, CURRENCY, OR TIMELINESS OF THE WEBSITE OR THE CONTENT. BZAM DOES NOT ASSUME ANY RESPONSIBILITY FOR ANY ERRORS, OMISSIONS OR INACCURACIES ON THE WEBSITE, THE CONTENT OR THE SERVICES.
TO THE FULLEST EXTENT PERMITTED BY LAW, BZAM DISCLAIMS ALL WARRANTIES, REPRESENTATIONS AND CONDITIONS OF ANY KIND WITH RESPECT TO THE WEBSITE, THE CONTENT AND THE SERVICES, WHETHER EXPRESS, IMPLIED OR COLLATERAL, INCLUDING,
WITHOUT LIMITATION, THE IMPLIED WARRANTIES AND CONDITIONS OF MERCHANTABILITY, FITNESS FOR A PARTICULAR PURPOSE AND NON-INFRINGEMENT OR THAT THE WEBSITE OR THE CONTENT ARE OR WILL BE ERROR-FREE OR WILL OPERATE WITHOUT INTERRUPTION. IN NO EVENT WILL BZAM BE LIABLE, WHETHER BASED ON WARRANTY, CONTRACT, TORT, NEGLIGENCE, STRICT LIABILITY OR ANY OTHER LEGAL THEORY, FOR ANY DAMAGES OF ANY KIND (INCLUDING, WITHOUT LIMITATION, DIRECT, INDIRECT, INCIDENTAL, CONSEQUENTIAL, SPECIAL, EXEMPLARY, PUNITIVE DAMAGES, LOST PROFITS, LOSS OF USE, LOSS OF DATA, BREACH OF PRIVACY, PERSONAL INJURY, FINES, FEES, PENALTIES OR OTHER LIABILITIES), WHETHER OR NOT BZAM IS ADVISED OF THE POSSIBILITY OF SUCH DAMAGES, RESULTING FROM THE USE OF, OR THE INABILITY TO MAKE USE OF, THE WEBSITE, THE CONTENT OR THE SERVICES.
BZAM'S TOTAL AGGREGATE LIABILITY TO YOU IN CONNECTION WITH OR RELATED TO ANY CLAIM, LOSS, DAMAGE, ACTION, SUIT OR OTHER PROCEEDING ARISING FROM, RELATED TO, OR IN CONNECTION WITH THESE TERMS AND CONDITIONS, THE WEBSITE, CONTENT, SERVICES OR ANY OF BZAM'S PRODUCTS, SHALL BE THE LESSER OF $50CAD AND THE AMOUNT PAID BY YOU FOR ANY SERVICES OR PRODUCTS SOLD TO YOU DIRECTLY BY BZAM THROUGH THE WEBSITE IN THE TWELVE (12) MONTH PERIOD IMMEDIATELY PRECEDING THE CAUSE OF ACTION GIVING RISE TO SUCH LIABILITY.
Intellectual Property Ownership
All Content, designs, illustrations, software, artwork, video, music, sound, names, words, titles, phrases, logos, and marks displayed on the Website or in the Content are owned and maintained by BZAM and are protected by copyright, trademark and other intellectual property laws and treaty provision laws. Any unauthorized publication, use, copying or modification of the Website or the Content, including trademarks, tradenames, and design marks, may violate applicable legislation and may result in legal action.
Privacy
BZAM is committed to respecting the privacy and personal information of all persons with whom BZAM does business. Accordingly, BZAM's Privacy Policy describes how BZAM collects, uses, and discloses the personal information of those individuals who access or use the Website or the Services. Please see BZAM's Privacy Policy, available on the Website, for further information. You acknowledge and agree that access to and use of the Website and the Services is primarily provided online, and that your information, including personal information, may be transferred, and stored as set out in the Privacy Policy.
Communications Through This Website
The internet is not a fully secure medium and any communications may be lost, intercepted, or altered. BZAM is not liable for any damages related to communications to, or from, this Website or the Services.
Third Party Websites
The Website may, for convenience purposes only, provide links to third party websites or services that are not owned or controlled by BZAM. BZAM does not endorse the information contained in those websites, or guarantee their quality, accuracy, reliability, completeness,
currency, timeliness, non-infringement, merchantability, or fitness for any purpose. The content in any linked website is not under BZAM's control and if you choose to access any such website, you do so solely at your own risk.
Error, Omissions, and Inaccuracies
BZAM does not guarantee, or accept any responsibility or liability for, the accuracy, currency or completeness of the Content or the Website, including with respect to any information, data, prices, illustrations, specifications, availability, Products, or the Services. BZAM reserves the right to change or update the Website and the Content to correct errors, inaccuracies, or omissions at any time without prior notice. The Content contained on the Website does not constitute a solicitation or an offering of securities in any jurisdiction. Due to online technical and security risks, the information set out on the Website should not be used for the purpose of making any decisions with respect to investments related to BZAM or the Content.
Indemnity
IN CONSIDERATION FOR ACCESSING OR USING THE WEBSITE, YOU AGREE TO INDEMNIFY, DEFEND AND HOLD HARMLESS THE GREEN ORGANIC DUTCHMAN HOLDINGS LTD., ITS OFFICERS, DIRECTORS, EMPLOYEES, CONTRACTORS, CONSULTANTS, ADVISORS, REPRESENTATIVES AND AGENTS, FROM AND AGAINST ANY LOSSES, LIABILITIES, CLAIMS, DEMANDS, THREATS, ACTIONS, PROCEEDINGS, EXPENSES (INCLUDING REASONABLE LEGAL FEES AND COURT COSTS) IN ANY WAY ARISING FROM, RELATED TO, OR IN CONNECTION WITH YOUR USE OF THE WEBSITE, INCLUDING IN CONNECTION WITH ANY PRODUCTS OR SERVICES OFFERED THROUGH THE WEBSITE OR THE USE OF ANY CONTENT OR INFORMATION CONTAINED IN OR OBTAINED THROUGH THE WEBSITE, THE SERVICES, YOUR VIOLATION OF THE TERMS AND CONDITIONS OR ANY APPLICABLE LAW OR REGULATION, OR THE POSTING, COMMUNICATION OR TRANSMISSION OF ANYTHING ON OR THROUGH THE WEBSITE BY YOU, INCLUDING BUT NOT LIMITED TO, ANY THIRD PARTY CLAIM THAT ANY INFORMATION OR MATERIALS PROVIDED BY YOU BREACH APPLICABLE LAW OR INFRINGE UPON ANY THIRD PARTY PROPRIETARY OR OTHER RIGHTS.
Forward Looking Statements
Certain statements on the Website may contain forward-looking statements and forward-looking information that relate to BZAM's current expectations and views of future events and should be read together with the more detailed information and financial data and statements available on www.SEDAR.com.
In some cases, but not always, these forward-looking statements can be identified by words or phrases such as "may", "might", "will", "expect", "anticipate", "estimate", "intend", "plan", "indicate", "seek", "believe", "predict" or "likely", or the negative of these terms, or other similar expressions intended to identify forward-looking statements.
Forward-looking statements involve known and unknown risks, uncertainties and other factors that may cause actual results, performance, or achievements of BZAM to differ materially from those anticipated in the forward-looking statements. By their nature, forward-looking statements involve numerous assumptions, known and unknown risks and uncertainties, both general and specific, that contribute to the possibility that the predictions, forecasts, projections, and other forward-looking statements will not occur. Such forward-looking statements on the Website, if any, speak only as of the date they were published and may be superseded by subsequent disclosures. Forward-looking statements on the Website, if any, may include, but are not limited to, statements relating to BZAM's:
expectations regarding its performance, revenue, expenses and operations;
plans and expectations regarding timing of the completion of construction projects and related costs, and the development and expansion of any construction projects both in Canada and abroad;
anticipated cash needs and needs for additional financing;
intention and ability to grow the business and its operations;
ability to complete business acquisitions and integrate acquired businesses;
expectations regarding harvesting of product and product sales volumes and prices;
expectations with respect to future inventory and production costs and capacity;
expectations regarding growth rates and growth plans and strategies;
expectations with respect to the approval and renewal of BZAM's cannabis licenses and the licences of BZAM's business partners;
expectations with respect to the future growth of the medical and recreational cannabis markets and BZAM's related medical and recreational products;
any commentary related to the legalization of adult-use, recreational cannabis and the timing related to such legalization in any jurisdiction;
advancement of international projects and targeting other opportunities as foreign and international laws and regulations governing cannabis evolve;
expectations about the competitive marketplace for cannabis and cannabis products;
future product developments and offerings;
payment of any future dividends;
treatment under government regulatory and taxation regimes;
expectations regarding the adoption and impact of certain accounting pronouncements;
expectations regarding legislation, regulations and licensing related to the cultivation, production and sale of cannabis products by BZAM's subsidiaries and business partners;
expectations relating to future operational performance, results and terms of strategic initiatives or agreements;
development of affiliated brands, product diversification and future corporate development; and
anticipated results of research and development projects and initiatives.
Forward-looking statements are based on certain assumptions and analyses made by BZAM in light of the experience and perception of historical trends, current conditions and expected future developments and other factors it believes are appropriate and are subject to risks and uncertainties. In making the forward looking statements on the Website, if any, BZAM has made various material assumptions, including but not limited to (i) obtaining the necessary regulatory approvals; (ii) that regulatory requirements will be maintained; (iii) general business and economic conditions; (iv) BZAM's ability to successfully execute its plans and intentions; (v) the availability of financing on reasonable terms; (vi) BZAM's ability to attract and retain skilled staff; (vii) market competition; (viii) the products and technology offered by BZAM's competitors; and (ix) maintaining current good relationships with BZAM's suppliers, service providers and other third parties. Although BZAM believes that the assumptions underlying these statements are reasonable, they may prove to be incorrect, and BZAM cannot provide any assures that actual results will be consistent with these forward-looking statements. Given these risks, uncertainties and assumptions, prospective purchasers of BZAM's securities should not place undue reliance on these forward-looking statements. Whether actual results, performance or achievements will conform to BZAM's expectations and predictions is subject to a number of known and unknown risks, uncertainties, assumptions and other factors.
Some of the risks and other factors which could cause actual results to differ materially from those expressed in any forward-looking statement that may be contained on the Website include, but are not limited to: continued listing requirements of a stock exchange and increased price volatility; changes in law; risks inherent in strategic alliances; difficulty of forecasting the medical and recreational cannabis markets; exchange restrictions on business; risks relating to expansion into foreign jurisdictions; political and other risks in emerging markets; risks of corruption and fraud in emerging markets; inflation risks in emerging markets; foreign ownership or control restrictions; risks relating to international advisors and consultants; increased operational, regulatory and other risks; limited operating history; reliance on timely approval and maintenance of licenses; reliance on certain facilities; reliance on management; reliance on key inputs; dependence on suppliers and skilled and qualified workers and labour resources; risks inherent in an agricultural business; vulnerability to rising energy costs; transportation risks; operating risk and insurance coverage; environmental and employee health and safety regulations; product liability risks; risks of product recalls; unfavorable publicity or consumer perception; risks relating to client acquisitions; growth-related risks; risks related to incurring significant net losses in the future and not being able toachieve or maintain profitability; risks relating to additional financing; risks relating to conflicts of interest; risks relating to competition from other companies; reputational risk to third parties, potential regulatory non-compliance issues; litigation risks arising in the ordinary course of business; reliance on cash from subsidiaries; risks associated with US governmental and regulatory enforcement in the international financial market; involvement risks of employees or other agents engaging in corruption or bribery without BZAM's knowledge; and risks associated with the substantial obligations of being a public company.
Entire Agreement
These Terms and Conditions, and any documents, materials or information expressly referred to in them represent the entire agreement between you and BZAM with respect to the subject matter set out herein, and supersede any prior agreement, understanding or arrangement between you and BZAM, whether oral or in writing. You acknowledge that, in entering into these Terms and Conditions, neither you nor BZAM have relied on any representation, undertaking or promise given by the other or implied from anything said or written between you and us prior to such Terms, except as expressly stated in these Terms and Conditions.
Termination
BZAM may terminate or suspend access to the Website or to the Services immediately, without prior notice or liability, for any reason whatsoever, including, without limitation, if you breach these Terms and Conditions. All provisions of these Terms and Conditions shall survive termination. Upon termination, your right to use the Website and receive the Services will immediately cease.
Miscellaneous
Any headings and titles herein are for convenience only. These Terms and Conditions are not assignable, transferable, or sub-licensable except with the prior written consent of BZAM. BZAM may assign, transfer, or convey these Terms and Conditions, or any of BZAM's rights thereunder, to a third party without notice to you. Any failure by BZAM to exercise or enforce any rights under these Terms and Conditions will not constitute a waiver of such right. A waiver by BZAM of any default shall not constitute a waiver of any subsequent default. No waiver by BZAM is effective unless it is communicated to you in writing. If and solely to the extent that any court or tribunal of competent jurisdiction holds any provision of these Terms and Conditions to be unenforceable in a final non-appealable order, such unenforceable provision shall be stricken and the remainder of these Terms and Conditions shall not be affected. Any such stricken provision shall, to the extent possible, be replaced with a provision that is enforceable and that comes as close as possible to expressing the intention of the original provision.
Contact
If you have any questions or concerns regarding these Terms and Conditions, the Website, the Services, or any of BZAM's products, please contact us at:
T: 1-844-256-BZAM (2926) or
E: hello@bzam.com